Hummus is a traditional Middle Eastern food and popular in the US and England although it is not yet well known in Japan.
It's a paste consisting of chickpeas, olive oil and garlic with a few additional ingredients. You then spread the mixture on pita breat
(another traditional Middle Eastern food) and eat.
Humms Place (UWS and West Village)
Everything is delicious, but my favorite is:
Humms Place Platter $14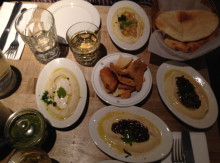 4 different kinds of hummus and warm pita bread
The price is very reasonable and it's enough for 2 people to share.