There are plenty of places in New York City to get a hamburger but the Shake Shack is one of the most popular with locals who declare that it's "The New York hamburger"
The Shake Shack is owned and operated by Danny Meyer, the Founder and CEO of Union Square Hospitality which is a high end restaurant group.
Opened in 2004 in Madison Square Park, the restaurant has been a huge success with over 64 restaurants.  Its shares are event traded on the New York Stock Exchange (Symbol: SHAK)
There are many Shake Shacks in New York City but there are usually waits that sometimes last an hour or more during lunch and dinner time.

A good location with only a 5-10 minute wait is the Grand Central Station restaurant and if the weather is nice, you can walk over to Bryant Park and enjoy your burger outside.
The bun is slightly sweet and delicious and the French Fries are excellent.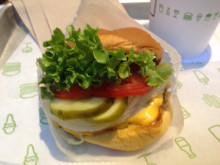 If you are in the mood for something other than a hamburger, I suggest the Mushroom Burger!